Our Support Structure
Jarrah House is a For Purpose, non-government organisation.  Our funding includes grants from governments, foundations and private organisations, pro-bono and in-kind services and goods, and contributions from clients. Our major funders – the Commonwealth and NSW Governments – contribute 95% of our annual income.
The NSW Government supports Jarrah House through baseline operational funding for alcohol and other drug withdrawal management, psychosocial support and residential rehabilitation, in addition to specific funding for:
Drug and Alcohol Treatment Services Program 
MERIT (Magistrates Early Referral Into Treatment) Program 
Alcohol and other drug residential rehabilitation for participants of the NSW Drug Court program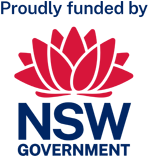 Jarrah House receives funding from the Australian Government:
Department of Health and Aged Care under the Drug and Alcohol Program
National Indigenous Australians Agency under the Indigenous Advancement Strategy


Jarrah House wishes to warmly acknowledge significant contributions
Bangawarra Consultants
give Connecting with Country Cultural Advice in support of the development of the therapeutic landscape of Jarrah House.
ESV business advice and accounting proudly support WADAC
kfive Furniture
gives high quality furnishings, discounted or at no cost
Oz Harvest
provides food supplies
Two Good gives a range of donations including two precooked meals for every client, every week.
Welcome contributions of time, talent, donations and supportive gifts are also received
Cuddle Bundles
(a Portfolio of the NCJWA*) gives babywear, prams and baby supplies
Glenda Planten provides regular knitting and crotchet classes to resident women
NCJWA* Charity Fund gives a charitable donation
Piecemakers Eastern Suburbs Quilters provide handmade quilts, passed on as a graduation gift to clients and children
Share the Dignity gift women's toiletries
Sydney Children's Hospital gives new toys
Wrap With Love provides knitted/crocheted blankets, passed on as a graduation gift to clients and children
If you wish to lend your support to the work of Jarrah House, please let us know by email
here
.

*National Council of Jewish Women of Australia, NSW Division