Treatment Approach
At Jarrah House, our Model of Care ensures the client sits at the center of her treatment experience.  Each client will be assigned a Case Manager at the beginning of treatment to allow for interagency collaboration and effective support during her time in residence.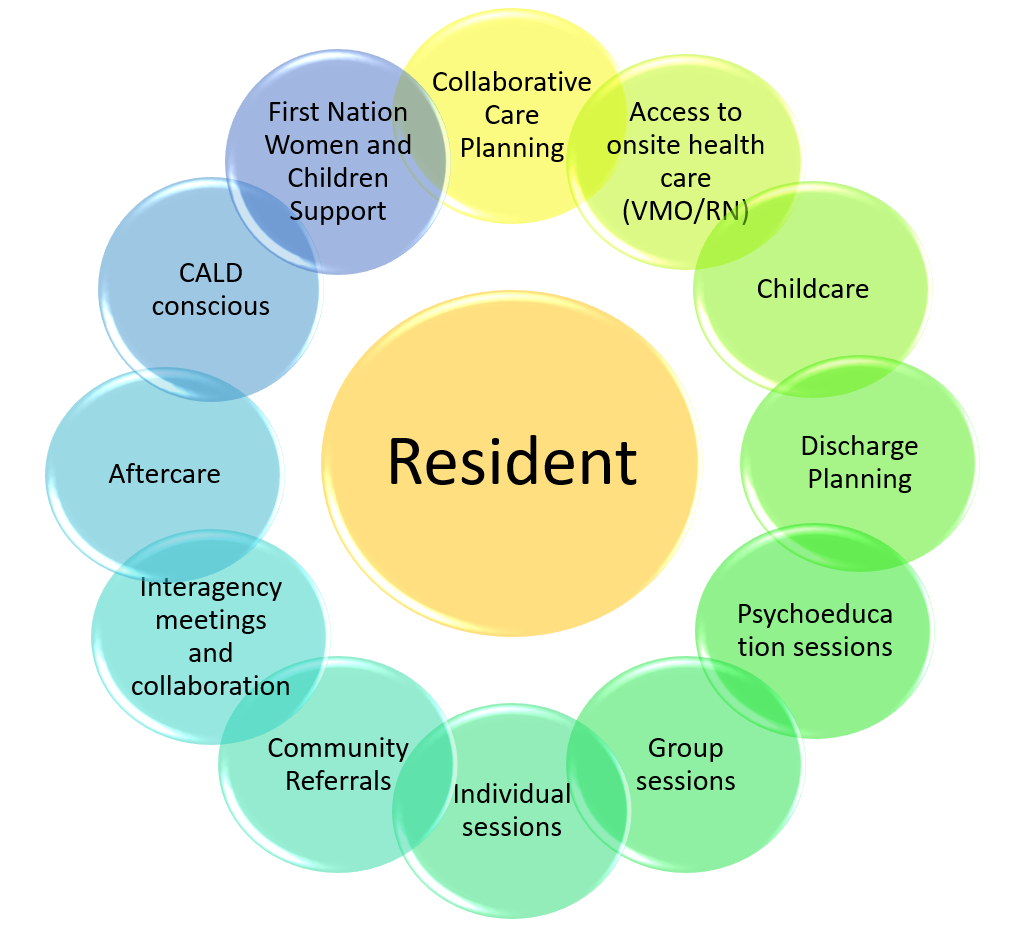 Residential treatment
Jarrah House is a residential drug and alcohol treatment facility catering for women and their children. We provide medicated and non-medicated detoxification programs and accept women on opioid treatment programs.  Our focus is a 10-week, trauma informed, residential treatment program for women who require the skills to prevent relapse and prepare for in-depth therapeutic work.
Program content is drawn from Dialectical Behaviour Therapy (DBT) and is designed to assist women improve their ability to regulate their emotions, cope with stressful situations, improve interpersonal relationships and formulate a sense of self and identity.  Content is delivered through daily psychoeducation sessions and is further reinforced through collaborative care planning sessions, which have a strong focus on improving relapse prevention skills, and through providing women with education on healthy communication styles and effective coping behaviours for difficult life experiences.
With a focus on developing a "life worth living", there is a strong aim of integrating DBT into all facets of the program. The following programs/activities run alongside our psychoeducation program:
Parenting Group
Weaving
Neuroscience groups (Addiction and the Brain, Window of Tolerance)
Yoga
Art Therapy
Poetry
Walks
Making the commitment to treatment
The Jarrah House program is built on the belief that women have the right to choose the ways in which they wish to make the desired changes in their lives.  This translates to the way we collaborate with the woman and her support systems to ensure her treatment experience is one which she feels empowered to commit to.
Jarrah House is a voluntary program, however there is an expectation that each resident commits to the values of residential treatment and respectful communal living.  Jarrah House is a smoke-free service and is committed to providing an effective and therapeutic residential drug and alcohol treatment service.